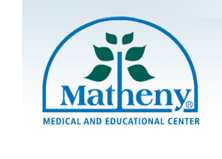 The Matheny School
Matheny Medical & Educational Center
65 Highland Avenue
Peapack, NJ 07977
Phone: (908) 234-0011 ext 721
Email: Mathenyschool@matheny.org
Website: http://matheny.org/
Population Served:
Autism, Blind, Brain Injury, Cerebral Palsy, Downs Syndrome, Intellectual/Cognitive Disabilities, Medically Fragile, Physical Disabilities, Psychiatric/Mood Disorders, Speech/Apraxia, Substance Abuse
Age Served:
Preschool, Elementary, Middle School, High School, 18-21
Counties Served:
Bergen, Essex, Hudson, Hunterdon, Mercer, Middlesex, Morris, Passaic, Somerset, Sussex, Union, Warren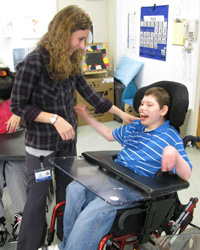 Program Description:
The Matheny School is a private school that serves students with multiple disabilities. We give our students the opportunity to reach their highest level of academic achievement, while also obtaining maximum independence. Our long-term goal is to prepare them for a smooth transition into post secondary functional and community-based programs. We take unique measures to address our curriculum, which is based upon the Common Core standards and the New Jersey Core Curriculum Content Standards. In addition to traditional testing, Professional Learning Communities, develop projects to help improve student performance based upon SMART goals and collect data to see if we collectively reach our goals.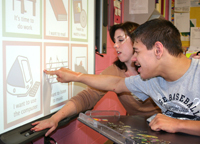 Our students benefit from the latest technology such as SMART Boards and Tables, iPads, iMacs, Powerbooks, HP-Touch computers and much more. We ask "How can our students do that?" and use everything to help our students attain higher results than any have felt possible.
Related services provide are vital to the core of our program. Occupational, Physical, and Speech therapies are threaded into our program through authentic tasks and settings. An example, with physical therapy, students are motivated by our staff and their peers to walk during games and sports. In speech, students are not limited to speech patterns and topics chosen by the curriculum teams, but enjoy phrases picked by either them or their parents. Occupational therapy looks to enhance all areas of functional life with a focus towards real world expectations.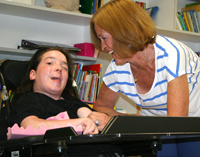 In the lower grades we utilize center based learning and students rotate through various activities. All grades benefit from the arts, music, and exposure to world langauges.
In the high school our focus shifts away from straight academics especially in 12th grade, moving to the development of practical transitional skills. Some of these transition skills may be as simple as increased emphasis on ADLs, based upon student need and guardian wishes. Students work through the Novice Level where they develop skills inside purpose designed transition rooms to the Journeyman Level, where they practice the skills within community settings. Some of our students reach Mastery Level, where job coaches support their transition to independence.
Parents are part of our planning process and are invited to be part of our curriculum design team. As a parent you will get regular communication from your IEP team. At Matheny we view public school districts as partners and we welcome them to visit our classrooms. We as a school look towards integrating and sharing with the community to get the best for your child. We firmly believe in TEAM – Together Everyone Achieves More.