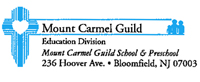 Mount Carmel Guild Academy
236 Hoover Avenue
Bloomfield, NJ 07003
Phone: 973-639-6622
Email: JD'Orsi@ccannj.org
Website: academy.mcgs.net
Population Served:
ADD-ADHD, Aspergers, Autism, Behavior, LD-Dyslexia, Psychiatric/Mood Disorders, Speech-Apraxia
Age Served:
Elementary
Counties Served:
Bergen, Essex, Hudson
Program Description: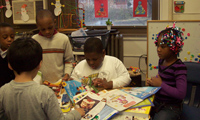 The Mount Carmel Guild Academy serves elementary school-aged children who are eligible for special education and related services. Core Curriculum Content Standards are taught using a development approach and ABA/Discrete trials.
Related services include:
Speech & Language – receptive & expressive language skills, augmentative communication, oral motor therapy & feeding therapy
Occupational therapy – sensory integration, fine motor, visual motor & visual perceptual skills
Play therapy – feeling identification & expression, social skills & anger management
Physical therapy – sensory motor development, gait & mobility training, gross motor skills
Music therapy – creative movement, chime choirs, singing
Nursing – vision & dental screening, medication administration, parent /doctor liaison
Therapy Dog – socialization and communication skills, focus and attention, tactile experience/sensory integration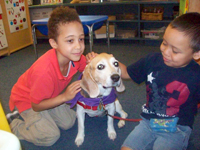 Behavior Modification
A token economy rewards appropriate behavior; stickers are given every 1/2 hour and an end of the day reward for earning 80%. Picture schedules are used as visual cues for appropriate behavior and verbal praise as a reinforcer.
Parent Education/Support Group meets regularly, giving parents an opportunity to exchange ideas and concerns about the challenges of rearing children with special needs.
Communication
Fall Meet & Greet for parents and teachers/therapists
Notebook for parent/school communication daily in backpack
Accessibility to school nurse for health questions & concerns
All staff available by phone or in person consults upon request
Mount Carmel Guild Academy is in compliance with Least Restrictive Environment Requirements of IDEA.