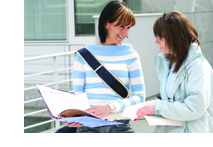 In addition to providing placement options for students with disabilities, many Alliance member schools also provide high quality consultation services for public schools and agencies in support of the in-district needs of students.
Approved private schools & agencies can provide:
Specialized & Comprehensive Evaluations
Educational & Clinical Consultation Services
Behavioral Consultation Services, including Functional Behavioral Assessments
Related Services
Home-Based Services
Itinerant Services for Students Who are Deaf or Hard of Hearing
Itinerant Services for Students Who are Blind or Visually Impaired
Augmentative Communication Services
Preschool ABA Programs
Support for In-District Programs
Curriculum Design & Implementation
Inclusion Support Services
Staff Training & Professional Development Services
Technology Consultation & Assistance
Community-based Transition Services
and much more….
Our Network of Approved Private Schools and Agencies Can Help
Benefits of In-district consultation
Recognized experts can help YOUR district build local capacity
Customized services from providers you know
Support around a single student, a classroom or an entire building
Help bring students back into local programs
Reduced out-of-district transportation costs
Serve students with low incidence disabilities
Create local programs that can also receive students from other districts
You determine the degree of support you need.
What Public School Leaders are Saying about Consultation Services:
"Youth Consultation Service has assisted our district invaluably by bolstering parents and interceding on their behalf. YCS is a strong advocate for the children and their parents…"
– Principal, Fourteenth Avenue School, Newark