Montgomery Academy
188 Mount Airy Rd.
Basking Ridge, NJ 07920
Phone: 908-766-0362
Email: info@montgomeryacademyonline.org
Website: www.montgomeryacademyonline.org
Population Served:
ADD/ADHD, Autism, Aspergers, Behavior, Downs Syndrome, Intellectual/Cognitive Disabilities, LD/Dyslexia, Psychiatric/Mood Disorders, Speech/Apraxia
Age Served:
Elementary, Middle School, High School, 18-21
Counties Served:
Bergen, Essex, Hunterdon, Mercer, Middlesex, Morris, Passaic, Somerset, Sussex, Union, Warren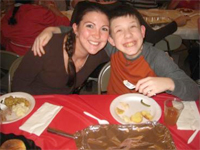 Program Description:
We are more than just your average school, we are a tight-knit community of learners committed to providing highly individualized instruction to our students. We offer therapeutic services to students experiencing social, emotional and educational challenges that cannot be met in their local or regional school districts.
We welcome you to visit our campus and discover what our academy has to offer.