North Jersey Elks Developmental Disabilities Agency (NJEDDA) High School
15 Union Avenue
Clifton, NJ 07011
Phone: 973-772-0148
Email: wweiss@njedda.org
Website: www.njedda.org
Population Served:
Cerebral Palsy, Intellectual-Cognitive Disabilities, Downs Syndrome, Physical Disabilities
Age Served:
High School and 18-21
Counties Served:
Bergen, Essex, Morris, Passaic, Sussex
Program Description: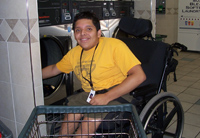 North Jersey Elks Developmental Disabilities Agency (NJEDDA) High School is celebrating its 68th year as a pioneer in the rehabilitation field for children and adults with special needs. The programs are fashioned to meet the needs of each individual with developmental disabilities. The agency currently serves 260 families from 50 municipalities in Northern New Jersey.
Our elementary and high schools are approved by the New Jersey Department of Education as private non-profit schools for children with multiple disabilities. The Agency is also licensed by or affiliated with the following state and local agencies:
New Jersey Department of Education
New Jersey Division of Developmental Disabilities
New Jersey Commission for the Blind and Visually Impaired
New Jersey Division of Youth and Family Services
New Jersey Department of Health
New Jersey Department of Human Services
Passaic County Freeholders
The Alliance for the Betterment of Citizens with Disabilities (ABCD)
The Association of Schools & Agencies for the Handicapped (ASAH)
The Association of Community Providers (NJACP)
The Council for Exceptional Children (CEC)
The Association of Supervision and Curriculum Development (ASCD)
Referrals for possible placement within the programs are accepted from public school districts, parents, hospitals, physicians, or approved local or state agencies.
North Jersey Elks Developmental Disabilities Agency (NJEDDA) Board of Trustees operates the agency. The Board of Trustees consists of concerned citizens who meet monthly to develop policies, provide fiscal oversight and program guidance to the administrative team. The Board has guided the agency through its years of growth into a comprehensive educational and therapeutic organization.