The Center School
2 Riverview Drive
Somerset, NJ 08873
Phone: (908) 253-3870
Email: info@thecenterschool.com
Website: http://www.thecenterschool.com
Population Served:
ADD/ADHD, Apraxia, Aspergers, Autism, Behavior, Learning Disabilities, Mood Disorders, Speech/Language
Age Served:
Elementary, Middle School, High School, 18-21
Counties Served:
Bergen, Essex, Hudson, Hunterdon, Middlesex, Morris, Passaic, Somerset, Sussex, Union, Warren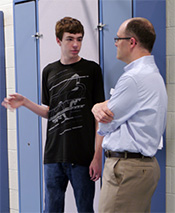 Program Description:
The Center School, a private, non-profit, state-accredited facility for bright, learning-disabled and emotionally fragile students was founded in 1971 by a small group of concerned parents and educators. The first location was a church school in Bound Brook, New Jersey. The doors opened in September 1971 with 34 students and a staff of 15.
Today, the student population is now four to five times larger than the original enrollment and is located in Branchburg, New Jersey. There are three separate divisions including an Elementary School, Middle School, and High School that provide individualized programs that adhere to New Jersey Core Curriculum Content Standards.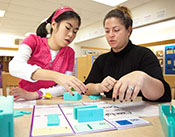 A Work Readiness Transition Program is utilized for students ages 18-21. This program is designed to help students explore diverse factors that impact their ability to effectively manage their lives and live independently in today's world.
The yearly number of school districts served is between 55 and 65 (providing services for children in grades 2-12) approximately 150 districts have made referrals to Center School. A long-standing record of creative shared-time scheduling, a strong return rate to local districts, and frequent transition to higher education reflects Center School's philosophy of preparing students for future educational and vocational experiences.
The Center School works closely with the districts, families and staff to provide a balance of academic, social and emotional growth, and to mentor and support our students to empower them to reach their fullest potential.