Academy360 Upper School
(Formerly The Children's Institute High School)
6 Regent St.
Livingston, NJ 07038
Phone: 973-509-3050
Email: UpperSchool@spectrum360.org
Website: http://spectrum360.org/academy360
Population Served:
Autism, Behavioral, and Related Disabilities
Age Served:
High School – 18-21, Young Adult Program – 21 and over
Counties Served:
Bergen, Essex, Hudson, Hunterdon, Morris, Passaic, Somerset, Sussex, Union, Warren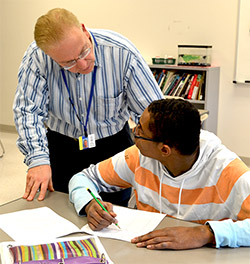 Program Description:
Academy360 Upper School is a program of Spectrum360, offering "Options Across a Lifetime" and serving individuals along the entire autism spectrum and with behavioral and related disabilities.  Academy360 Upper School is an approved NJ State Board of Education Private Schools for the disabled, providing Preschool, Autism and Behaviorally Disabled programs.
At Spectrum360 we know that an individual's disability does not define who they are. We teach "the whole child," so our students can discover and develop their own unique talents and abilities. Our students have the same learning activities and experiences that are provided to students in their local schools, with all of the 21st century technology, supports and accommodations they need to succeed. Our after-school and weekend respite programs offer opportunities for community integration and interaction with typical peers. Our curriculum is fully aligned with state and federal standards.
Academy360 Upper School team of teachers, paraprofessionals, clinicians, board-certified behavior analysts, and speech therapists work together to promote the academic, social, behavioral, language, career and daily living skills of each student. Staff specializes in evidence-based strategies including Applied Behavior Analysis, Differentiated Instruction, and Universal Design. Our staff members are frequent presenters at local, state and national conferences.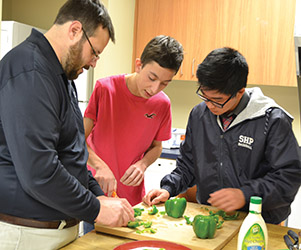 Serving students in grades 10, 11, and 12, Academy360 Upper School has a strong academic component and emphasis on life skills, career development and real life experiences. Our program prepares students for the future. Students graduate with the necessary linkages to post-secondary supports.
Serving students ages 18-21, independence, self-determination and personal growth are the cornerstones of our Young Adult Program curriculum at Academy360 Upper School. Through integrated, community-based learning and work opportunities, we ensure a seamless transition to post-secondary settings and adulthood. We promote self-determination so that our students and young adults become independent and productive in their communities.
Spectrum360 also offers Indepedence360 a program for adults, 21 and older, with ASD and related developmental disabilities. Our FilmAcademy360 and CulinaryAcademy360 are open to teens, young adults and adults in the community as well as currently attending our programs.